With a glossy, smooth, white exterior and a driverless "cockpit" that looks like the face of an android, the Pod, an autonomous electric truck designed by Swedish manufacturer Einride, seems lifted directly from a futurist's head. When one talks about autonomous trucking, they usually refer to ordinary semi-trailer trucks fitted with sensor suites of cameras and LiDAR. Most autonomous trucks still have driver's seats. New technology molds itself around old technology.
The Pod, while still clearly evincing its truck ancestry, is not an adaptation of the old. Rather than a driver's seat, the Pod features a tall, glass window behind which the vehicle's sensors can be placed high for maximum situational awareness and thus safer deployment. GE Appliances looked for such a clear embrace of the new when the company sought to test autonomous vehicle technology on its 750-acre Appliance Park campus in Louisville, Kentucky.
"It's really a whole redesign, rethought, and there's really nobody in the United States doing that currently," says Harry Chase, director for advanced manufacturing at GE Appliances. "Einride are really the only ones in the world that have gone out and said, 'Hey, if I can rebuild this, how do I do it?' and take it from the basics and build it up from there."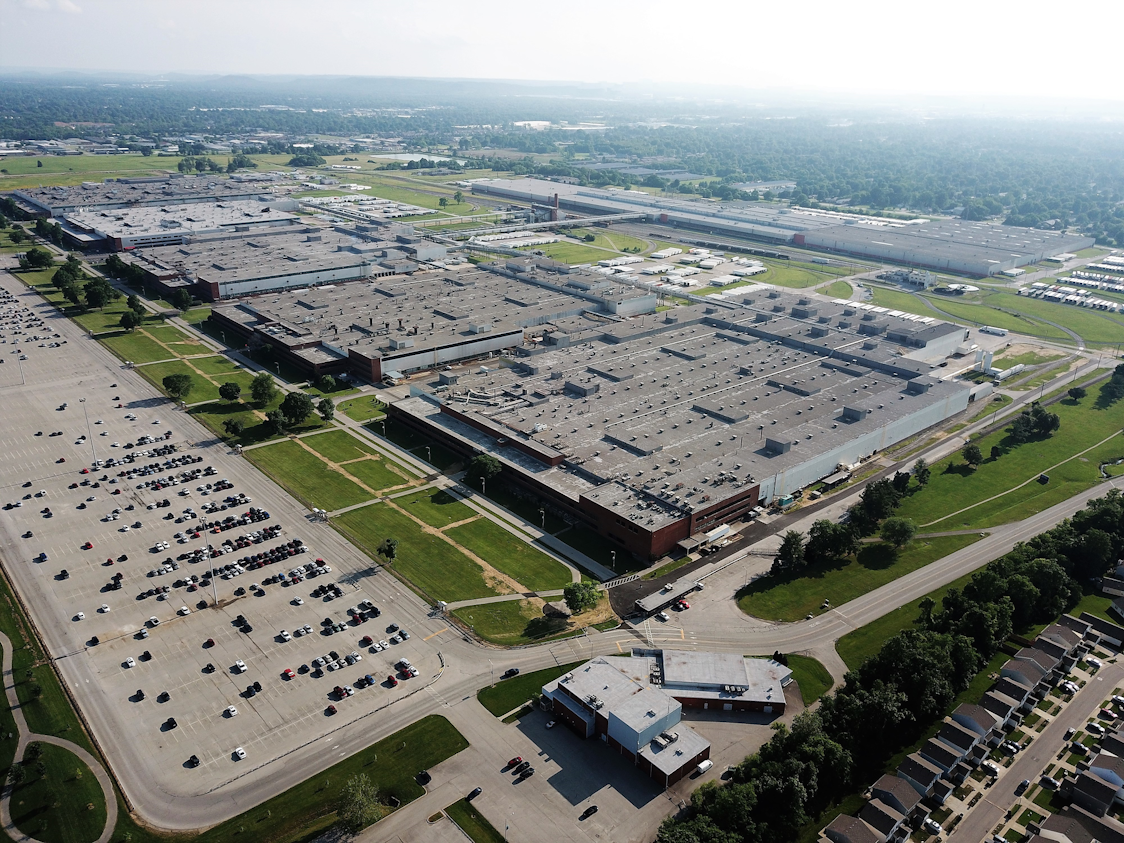 How Autonomous Trucking Works at GE Appliances
The pilot program for the Pod, that features zero emissions and runs entirely on electric power, began in late October 2021 at Appliance Park, a 750-acre behemoth of a campus, large enough to have its own zip code. While Einride has run pilot programs in Sweden with DB Schenker, SKF, and Coca-Cola Europe, the GE Appliances pilot is the first deployment of the Pod in the U.S.
At an injection molding plant on the campus, employees load the Pod with agitators (the spindles in the center of washing machines). The Pod then drives to another facility for laundry machine assembly and backs into a loading dock. Employees unload the agitators, and the empty Pod returns to the injection molding plant for reloading. The Pod's wheels lock down for safety purposes during loading or unloading. Employees press a button to indicate when the Pod is fully loaded or unloaded, at which point the wheels unlock and the Pod continues its cycle.
The Pod runs during first shift and on average covers about 70% of the daily workload. For all other shifts, or whenever the Pod needs to be taken offline for tweaks or maintenance, the traditional process continues. Yard trucks drop trailers to be filled with agitators at the injection molding plant. Employees call a yard truck to pick up the full trailer and drop it at a holding area. When the assembly facility requires the agitators, another call goes out for a yard truck to pick up and deliver the full trailer. Finally, employees at the assembly facility call for a yard truck to deliver the empty trailer back to the injection molding plant.
A remote driver monitors the Pod and takes control of the vehicle 40% of the time, for instance to provide direction in abnormal cases, like animals crossing in front of the Pod, in which case the Pod's software may not be sure what to do. The other 60% of Pod operations take place fully autonomously. The ultimate goal is to achieve 95% autonomous operation with a single remote driver monitoring between eight and 10 Pods.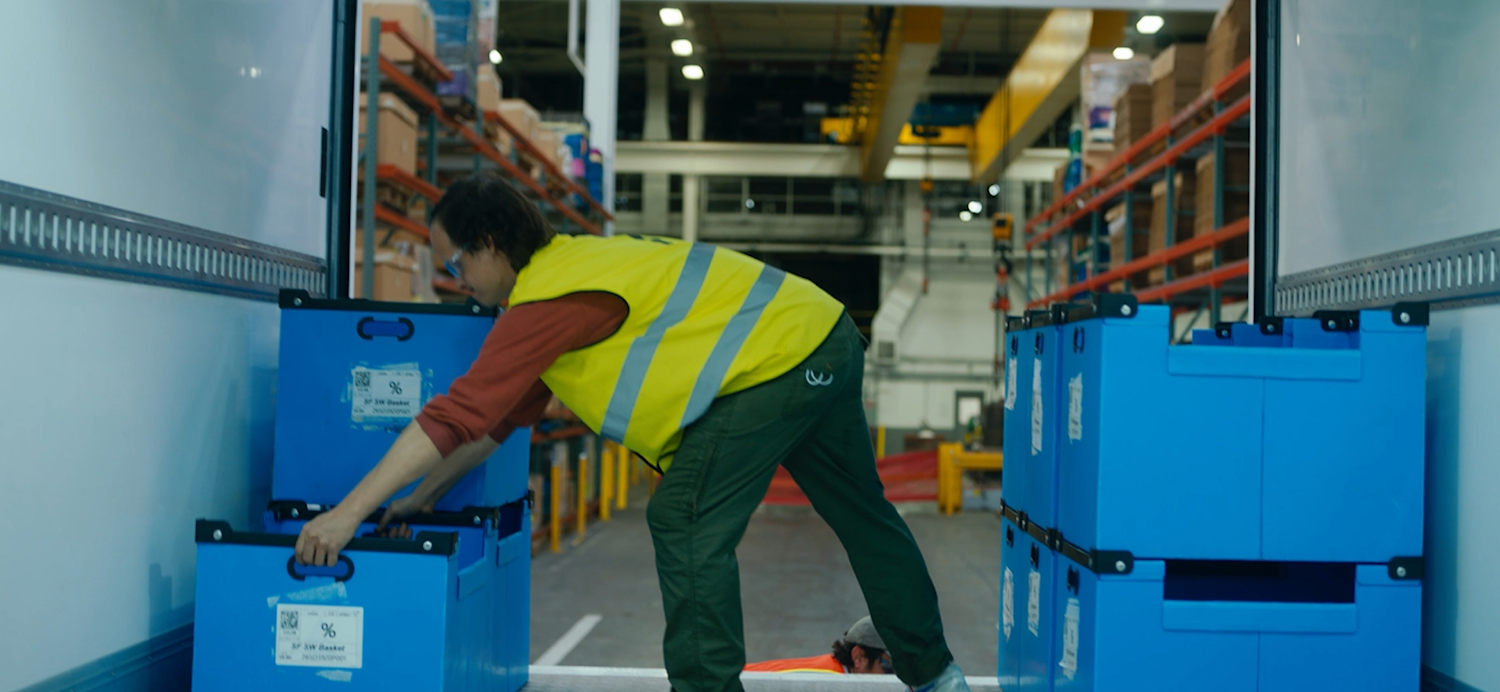 Serving Employees with Autonomous Partners
Appliance Park is a unionized facility (IUE-CWA Local 83761). Plant stewards consulted on the pilot program. "When they saw the remote driver to help monitor the Pod, that's a skill-up job for them," Chase says.
The union has become an active participant in the pilot, providing guidance on best procedures for loading and unloading the Pod. The employees at the loading docks also reacted positively as the Pod eliminates complaints about delays between calling for a yard truck and when it arrives to pick up or deliver a trailer.
Special care had to be taken when addressing the facility safety team. "Questions like 'How do you de-energize this thing? So, if I go work on something, am I going to get zapped?' So, it's really going through what we call the green tag process to make sure everything's ready," Chase says. "Since we never did this before, it's a lot of extra questions. A lot of extra concerns to work through—and rightly so."
GE Appliances had to install an electric car charger and add three new antennas to its 5G infrastructure, in partnership with Ericcson, to provide wireless coverage across the length of the Pod's route. Chase expects that will be sufficient coverage, even when adding new Pods to the fleet working in the same general area of the campus. If and when Pods deploy on the other side of Appliance Park, additional 5G antennas may be required.
Where employees may contact a yard truck driver to inquire when a trailer will arrive at their facility, there's no current system in place for employees to query the location of the Pod. Chase notes that the Pod can support something like a system that uses a television monitor to allow employees to see the position of the Pod on campus and display arrival time.
"It's those things that we're trying to learn from this technology," Chase says. "These tools really open up the world for us to be more informative, whether it's exception management or just visual control of our processes."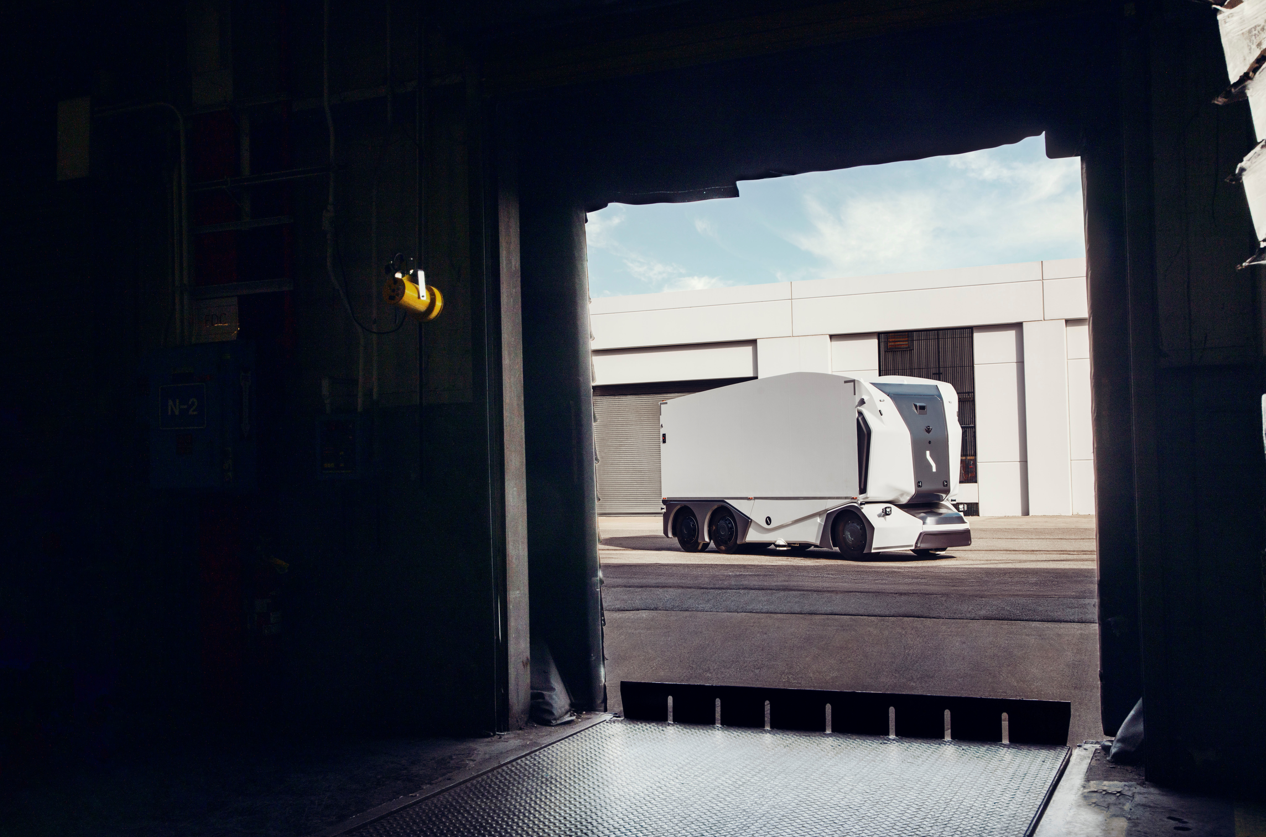 Investing in Adjustments to Physical Infrastructure
The Pod could not back all the way into the loading docks, for example, due to the presence of dock locks that triggered the Pod's LiDAR sensors. The dock locks were removed. This meant GE Appliances had to devise a different way to secure the Pod in the dock to prevent it from shifting during loading or unloading.
The company discovered the need for other, specific adaptations for deployment in the U.S., like developing a taller unit to account for double-stacking of larger American pallets (roughly 25% larger than European models).
"There's nuances to the U.S. market." Chase says. "You know, one thing is like an emergency stop. In Europe they don't, but we require a yellow background. Really simple, little, almost silly things. But it's those learnings that we're trying to make sure, when we deploy, we have it all fixed."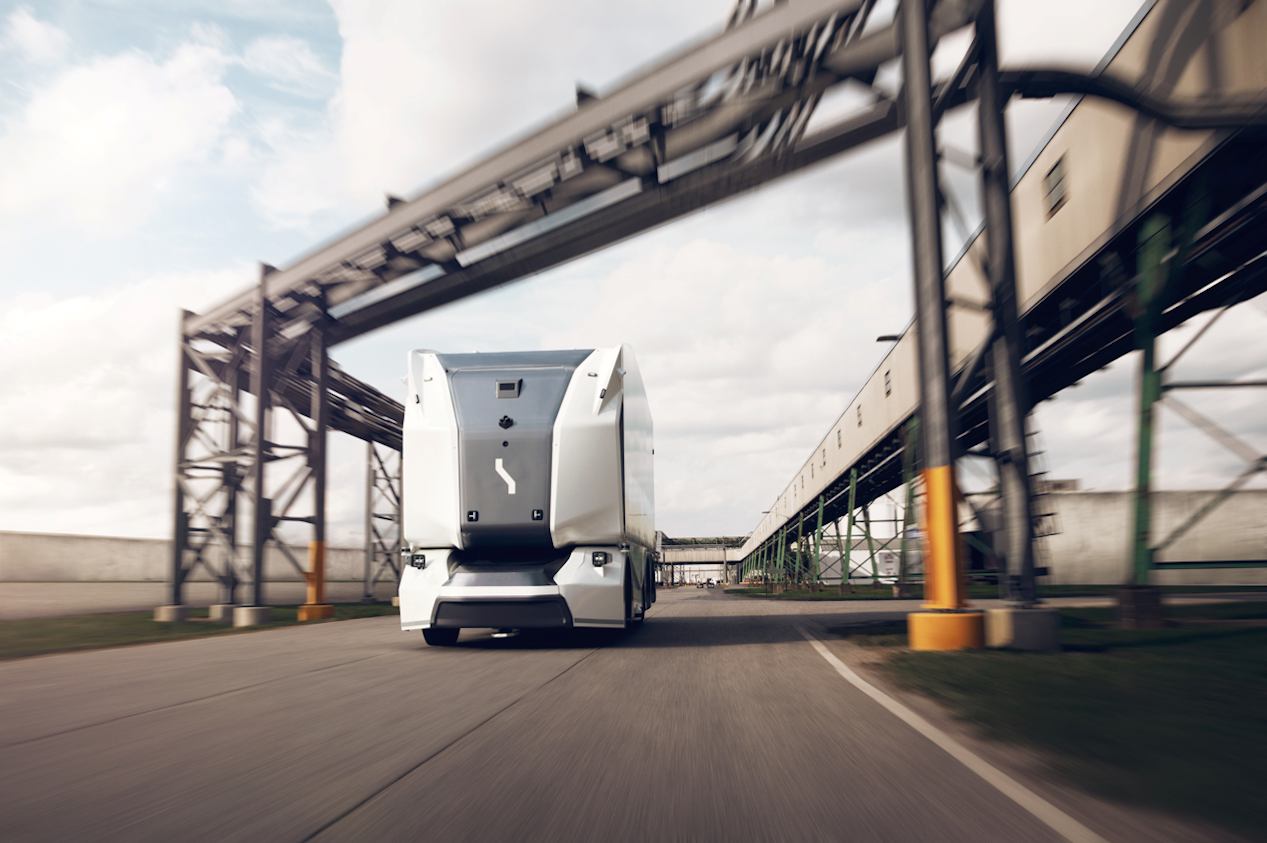 Clear Goals Lead to Fresh Initiatives
Yard tractors in the park travel up to 15 mph. The Pod is locked down at 8 mph for safety concerns. Chase notes, however, that achieving smoother, not faster operations is the pilot program's current goal. The Pod doesn't have as many touches, i.e. interactions with the trailers, as the yard trucks. More efficient operation will eventually lead to faster operations once the Pod is also allowed to run at 15 mph.
GE Appliances plans to deploy two or three of the Pods for this and similar tasks by Q3 2022. The company also has seven other projects for which more Pods may be deployed. Future planned tests include running the Pod on a lightly trafficked public road in Selmer, Tennessee, near another GE Appliances plant, after getting support from the plant manager and requisite permissions from state government.
"We're initially testing it out in Appliance Park because it's like a little city on its own," Chase says. "Eventually we want to look at how do we go outside the park and deliver. So, it's really a holistic look at how we bring things back and forth autonomously."
At Appliance Park, Chase also hopes that the Pods could be given the ability to perform "hot shots," like emergency shipments of supplies to production facilities or other redeployments outside of a Pod's usual routes. For now, Chase says, it's important to keep their eyes on the ball and know precisely what they're trying to get out of the pilot program at present.
"Like any new technology or any change coming into an organization, you have to be willing to present clearly and concisely what it's going to do," Chase says. "I think, probably, before we started the pilot, we'd been talking about this for over a year.
"This is a tool to support the team member. We want to get rid of those dirty, dangerous, dull, difficult jobs. Driving a truck back and forth every two hours on the same route is very dull. And I believe that's why, when we bring the Pod to the yard tractor drivers, they're like, 'Hey, this is actually pretty cool. I like this because that's the most boring thing I have to do.' And that's the thing everybody gets upset about."
source: https://www.industryweek.com/technology-and-iiot/automation/article/21215031/ge-appliances-pilots-autonomous-electric-vehicle-for-materials-runs