Cost-effective deployment of electric buses requires a vision and a strategy. The right software solutions smooth the transition and ensure optimized operations now and into the future.
"Start the way you intend to continue" has always been sound advice. Now that electric buses are no longer the wave of the future, but the wave of the here-and-now, these are words to live by for transit agencies and private operators as you deploy your electric-bus fleets. To start with a successful deployment and continue that success in operations over the long term, a thorough transition plan must be prepared that includes both vision and strategy.
California's Innovative Clean Transit (ICT) regulation, along with other state policies, including the Sustainable Communities and Climate Protection Program (SB 375 and SB 350), have set out the vision for a future transit sector that is sustainable, community-oriented and better-connected.
You should take advantage of these frameworks and the lessons learned by other agencies to build a robust strategy, tailored to your own context, that works with the new constraints of electric buses and their impacts on the fundamental drivers of your business: people, processes and tools.
People
The introduction of electric buses is a transformative innovation. All relevant stakeholders and personnel should be included in the early stages of the transition plan to ensure their understanding, involvement in, and adoption of the plan. Planners, schedulers, dispatchers, mechanics, and drivers should have a thorough understanding of the challenges of electric buses and how each of them plays a key role in ensuring consistent service delivery while aiming for the expected business benefits.
As an example, schedulers will need training to adapt their practices to be able to optimize the number of vehicles needed and reduce the additional non-productive time arising from the recharging activities. Well-trained drivers will adopt a style of driving that saves energy and extends the life of the electric buses in the long run.
Processes
Electric buses bring multiple considerations to be addressed in operations-planning process – on day one, and every day. The virtue of their introduction is not only to replace conventional buses and put in place an infrastructure, but to leverage the opportunity to rethink and redesign operations to produce the expected benefits for transit operations as well as for communities.
No matter whether the buses considered are battery or plug-in-hybrid electric buses, you have to evaluate how many buses you will need. At the planning stage, you need to determine several things including: what is the possibility of altering the existing network of routes; how long and over what distance can a bus operate between charges; do the weather conditions and the topography of the routes have a significant impact on buses' energy consumption; what will be the best charging strategies – overnight or opportunity charging; how long charging takes and where it can be done; and what is the capacity of the charging infrastructure and of the power supply?
There are many other questions that will need to be answered as you deploy and operate your electric-bus fleet, such as how to optimize daily vehicle assignments based on the state of charge of the available vehicles; how to assign vehicles to the right charging station; and how to communicate information to the charging stations about the target state of charge and the time when the vehicle should be ready for its next block.
As mentioned earlier, electric buses may require a specific yard configuration. Vehicle parking should consider the position of the recharging infrastructure. A well optimized parking arrangement will allow you to manage pulling in and out of the garage and parking the vehicles according to their need for recharging and their next block.
Tools
At GIRO, we started developing software tools for planning, scheduling and operating electric-bus fleets early in the last decade, in collaboration with industry experts and transit agencies and authorities. We first offered tools for electric-bus planning, scheduling, and operations in various modules of our HASTUS software suite in 2016. Since then, these functionalities have been showing their worth at agencies in North America and Europe, optimizing electric-bus services to achieve considerable savings.
The people on your team will need different tools related to electric buses according to their role.
Planners will want tools to help them explore what-if scenarios based on different electric-bus types, charging stations, route topology and operating conditions.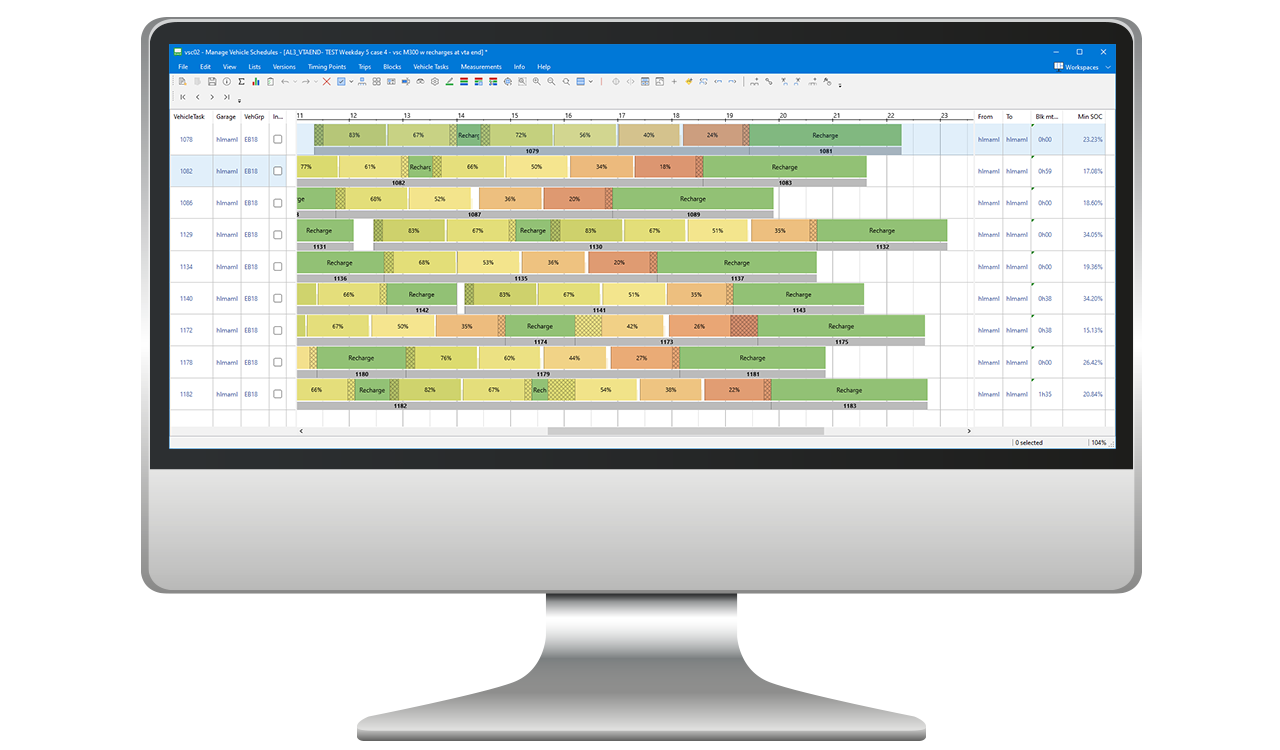 The HASTUS tools for electric buses enable schedulers to review state of charge when finalizing run cuts. These values can be managed by the transit agency or through integration with the battery supplier's system.GIROSchedulers will want to optimize schedules and ensure a robust and operable solution using tools that automatically consider mixed fleets, vehicle range, the timing and location of charging activities, and account for the constraints related to the limited space at terminals and the use of multiple charging technologies. They will also want to assure optimal trip links to maximize continuous driving time within the available state of charge and minimize deadheads.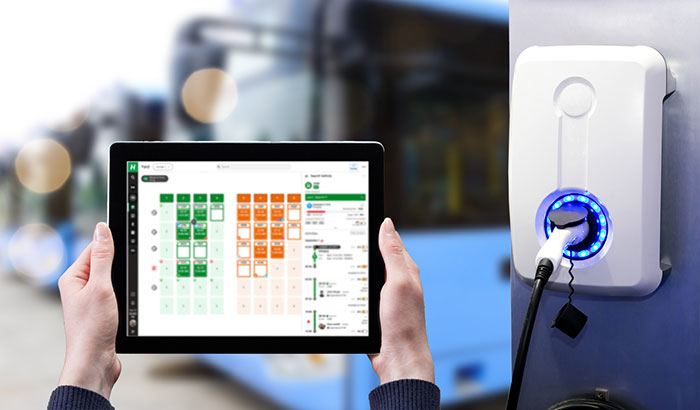 HASTUS yard tools offer real-time integration crucial to efficient daily operations, monitoring charging and ensuring sufficient state of charge for electric vehicles' upcoming tasks.GIROOperations managers will want tools to apply new approaches to vehicle assignments, dispatching and intelligent yard management. They must be able to consider vehicle state of charge, range constraints and maintenance constraints; manage the pull-in and pull-out of vehicles from the depot; optimize parking to facilitate charging and scheduled service; and to respond swiftly to daily changes to ensure optimal operational performance.
The move to electric buses, and to zero-emission vehicles in general, in public transit is accelerating. For planning, scheduling, and operating conventionally powered vehicles, public transit agencies no longer need to proceed by trial and error and can rely on tried-and-tested methods. Fortunately, neither are transit agencies faced with reinventing the wheel when it comes to ensuring a robust service offer using battery-electric buses. Software solutions designed to meet the challenges of zero-emission bus fleets have been on the market for several years. Pioneering agencies have already adopted these tools and are reaping the benefits of robust, optimized electric-bus planning, scheduling and operations.
source: https://www.masstransitmag.com/bus/vehicles/hybrid-hydrogen-electric-vehicles/article/21223941/getting-the-full-benefit-from-electric-buses-now-and-longterm