Plug Power is racing to open its third factory in New York state before the end of next year.
The fuel cell and hydrogen electrolyzer maker just invested $125 million to open a plant outside Rochester. They announced joint ventures this year that will lead to the development of factories in South Korea and Australia. And the company eventually will need to build a factory in Europe.
Now, Plug Power (Nasdaq: PLUG) is seeking approval to build a 350,000-square-foot manufacturing plant and office complex in the Vista Technology Park in the towns of Bethlehem and New Scotland in Albany County.
"Our footprint in the state of New York is going to be much larger than it is right now," Plug chief strategy officer Sanjay Shrestha said Friday. "We are obviously outgrowing our existing facility in Latham."
The company is racing to add capacity as it rolls out more uses for fuel cells and demand accelerates for its hydrogen-generating electrolyzers. Plug sees big opportunities to expand beyond its core business of building fuel cells for forklifts and using the same technology to power data centers, airplanes, buses and delivery trucks.
Annual revenue could reach $500 million this year. It is projected to climb to somewhere between $900 million and $950 million by the end of 2022. And chief financial officer Paul Middleton expects sales will reach $3 billion by 2025.
To get there, Plug needs to increase capacity.
"How do you think about optimizing the production and transportation costs, supporting multiple new markets and keep driving the costs down," Shrestha said.
One part of the answer is tied to Plug's decision to pick Columbia Development's Vista Tech Park in Bethlehem as the site of its third New York factory.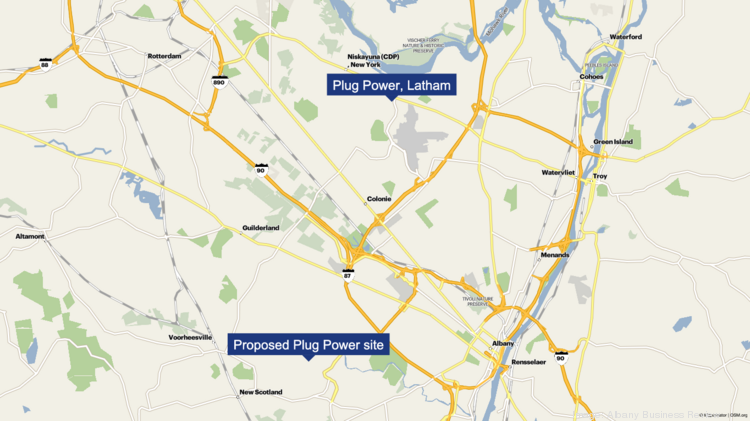 Columbia Development officials told the Bethlehem planning board this week that Plug wants to start moving into the 200,000-square-foot factory and service center portion of the project by July 21. The remaining 150,000 square feet is scheduled to be turned over to Plug by the end of 2022.
An estimated 690 Plug employees are expected to work at the proposed Vista Tech Park site, including 360 who currently work out of Plug's Latham factory.
Shrestha and Plug are unable to talk about other specifics for the Bethlehem and Latham manufacturing investments at this time.
The company also is focused on driving down production cost and finding ways to make its plants more efficient. That's what prompted Plug to hire former Tesla director of operations David Mindnich over the summer as the company's executive vice president of global manufacturing.
"It gives us sophistication about how we think about automation, how we think about supply chain, how we think about bringing the costs down," Shrestha said.
Plug's race to add production is occurring as the company invests heavily to build a network of green hydrogen generation plants across North America. Plug describes the plants as green because hydrogen will be produced using hydroelectric, wind and solar power.
Plug expects to have two plants producing hydrogen by next summer and four by the end of 2022. And the number is expected to grow to 13 by the end of 2025 when Plug will be generating 500 tons of green hydrogen per day in North America.
Those efforts are all tied to chief executive officer Andy Marsh's mission to use fuel cells and hydrogen to displace some of the engines and diesel currently used in delivery trucks and generators.
"The time for green hydrogen is now and we are doing what it takes to make sure we get the scale, costs and economics right," Shrestha said.
source: https://www.bizjournals.com/albany/news/2021/11/19/plug-power-racing-to-expand-production-capacity.html